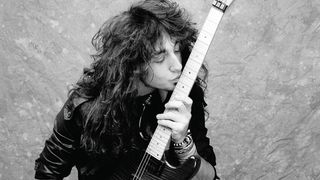 (Image credit: Ross Pelton)
Jason Becker's story is one that cannot fail to move you. At age 20, he was on top of the world, playing on David Lee Roth's 1991 album, A Little Ain't Enough, as Steve Vai's replacement. He'd already become one of the hottest names in shred, thanks to his work in Cacophony with Marty Friedman, releasing Speed Metal Symphony in 1987 and Go Off! in 1988.
But disaster was about to strike. Not long after he felt some pain in his leg, Becker's health rapidly declined. He had to switch to super-light-gauge strings to complete the Roth album, and his condition deteriorated so quickly that he was soon confined to a wheelchair.
He was diagnosed with Amyotrophic Lateral Sclerosis (ALS), also known as Lou Gehrig's disease. Eventually, his condition degenerated to the point that he was only able to communicate via his eyes, using a system his father developed for him.
For the average guitarist reading this, it is unthinkable to miss even a few days of playing. Imagine the trauma of never being able to play again – and that being the very least of your worries.
Becker has battled numerous complications and crises; with a prognosis of maybe five years to live in 1989, 30 years later he is still fighting on. He has always been held in exceptionally high regard in the guitar community, and his new album, Triumphant Hearts, is testament to that, featuring a who's who of some of the world's greatest guitarists, including the likes of Joe Satriani, Uli Jon Roth, Guthrie Govan and former Cacophony bandmate Marty Friedman.
In this candid conversation, Becker reveals how this enviable roster of guitar greats brought his vision to life and his six-string story from childhood to today.
READ THE ENTIRE INTERVIEW WITH JASON BECKER ON GUITARWORLD.COM.